Why Us?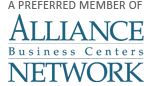 Good question right?  Here are a few reasons why us:
You're busy, finding a new office isn't always easy. You don't have time to tour numerous buildings let alone read the fine print on a 30 page contract. What if we sent you our easy and simple to read Office Service Agreement before hand? Would that be a little more helpful? An educated consumer is our favorite customer!
Walking through the door you can feel the calm energy that surrounds our reception area. No pushy sales people, only friendly faces willing to help. We strive for a relaxed but professional atmosphere, where you will feel right at home.
We  introduce you to your neighbors, synergy is important to us and hopefully will increase your bottom line. Many of our clients do business and become friends with one another.
All billing is done right on site, no need to to call an 800 number to discuss an invoice. A real live person will handle any concern right on the spot.
After you move in you realize that your company is expanding, growing and prospering, and you need to hire more employees.  Great, that's what we want for you and we will happily upgrade your office to a larger one mid term at no extra charge.
Whether you are need a full time office, virtual office or just renting a conference room for an hour, we will make your experience at Montville Executive Suites a pleasant, stress free one.
But just in case you move elsewhere, we will continue to receive your mail and accept packages for 30 days without charge. No business continuity fees or exit fees required.
Give us a call today and see for yourself why we say WHY US?