Advantages of a Managed Office Space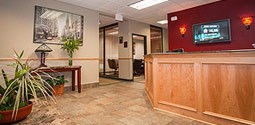 Also known as a "serviced office space," a managed office space gives every company the ability to do business like a leader in the field. Here are just a few of the advantages of a managed office space, especially if your business is not yet established.
Pay As You Go
Managed office spaces do not require long leases. With the modern ability to do business remotely and use virtual technology, you may not need a physical office space year-round. Therefore, you should not have a year-round office bill.
Serviced Offices Clean Themselves
The offices do not literally clean themselves. However, the point is that you do not have to ever worry about it, so the office might as well clean itself. The benefit of a managed office is that it will always be ready and at your disposal at any time, no prep work required.
All-in-one Functionality
A managed office ensure that you do not have to deal with the hassle of separate bills. Power, water, Internet, phones and interior design are all taken care of. Your principals can spend time on R&D and distribution rather than administration and overhead.
Scalability
Managed office spaces grow as your business grows. Instead of fighting with a landlord over a lease because you did not schedule growth to occur on the first of the month, you can easily move to a larger office at any time.
Please contact us when you are ready to upgrade your office space without upgrading your office bills. We are ready to provide you with premier managed office space services.