What is A Virtual Office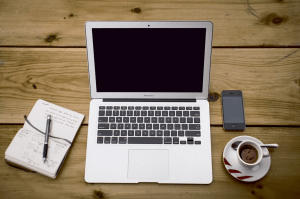 The definition of "what is a virtual office" has changed over time. It used to refer to a full-service office that could be used by consultants, entrepreneurs, or sole proprietors who didn't have an office space of their own. For a monthly fee they could use the office, as well as its phone and mail service, to conduct business and meet with clients in a professional setting.
Today's definition of "what is a virtual office" is all of that and a whole lot more. Now it can also refer to businesses that operate entirely online, without a full time fixed location at all. The business owner and employees work together remotely, relying on the internet for things like video conferencing and sharing documents, but use their "virtual" address as a location to meet – together or with clients – when the need arises.  Businesses that function as a virtual office may outsource certain services to a virtual assistant; like phone answering services,
clerical tasks, copying and scanning, for example.
There are many advantages for conducting business in a virtual office setting. This post will go over some of the main benefits for both the business owner and his or her employees.
What is A Virtual Office: The Benefits
By now, the biggest advantage of a virtual office should be self-evident — virtually no overhead costs (pun intended there). There's no doubt it is less expensive to run a business out of a virtual office because it eliminates the cost of buying or leasing physical office space, furniture, equipment, and all the long term contracts that go with them.
In addition, any maintenance costs associated with having a physical location are not a factor for virtual offices. Since a virtual business can hire independent contractors, employment expenses are reduced as a result of often not having to pay employment insurance or taxes.

Further, having a virtual office address on your business cards presents a professional image that shows the business isn't operating out of a post office box or someone's home.  Virtual offices are usually serviced office centers (also known as Executive Suites) that are located in prestigious office buildings with prominent, easily located locations.  Simply using a virtual office as your business address instantly elevates you over your competition.
There's also the benefit of having meeting and conference rooms available when you want to meet with clients. Your competition may hold their meetings in diners or coffee shops – NOT professional – while you and your team meet prospects and clients in "your" great looking office building – the one shown on your business cards and collateral materials – on an as needed basis.  The conference and meeting rooms will have state of the art amenities like projectors, display screens, white boards, WiFi, and, of course, professional receptionists who greet your guests and offer them coffee and beverages as if the building were your own.  The professional look you'll display will be sure to impress the most discerning clients.
Another great advantage for employees is flexibility. Without having to go into an office everyday, employees have the option to work from wherever they feel most comfortable. In addition, commuting time can be eliminated completely when working remotely, leading to more time for getting work done.

The combination of these benefits also has the potential benefit of having happier and more productive workers on your team.  Studies have found that most employees – particularly the "younger generation" really value the flexibility to work from home or without a rigid office to commute to every day.
What is a virtual office compared to a traditional office? A virtual office doesn't always have the same kind of social interaction and face-to-face contact that exists in a physical office. Communicating digitally could also lead to some messages being misinterpreted due to the lack of non-verbal cues. However, in practice, many companies successfully operate with virtual offices despite the challenges and many come to prefer the arrangement.
Virtual offices and the services they provide offer employers and employees the best of many worlds: All the benefits that come with working remotely, as well as all the amenities of a traditional office when needed. See our full range of affordable Virtual office services. We believe the definition of "what is a virtual office" is: Whatever you want it to be!