Virtual Office Holiday Party: Ideas Sure to Make Your Celebration a Huge Success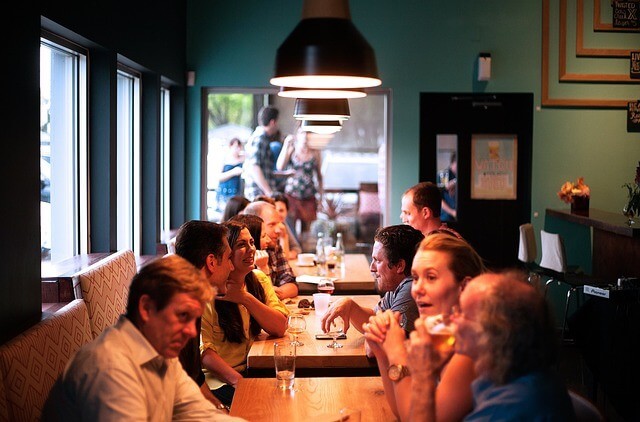 The non-traditional nature of a virtual or shared office space may have you wondering whether it's worthwhile to plan an office holiday party. True, you've got several separate entities under one roof, many of whom may not even know each other, but in reality, we all celebrate the holidays in some way, shape or form, so why not?
Sharing the cost of the holiday party might be attractive for some companies, especially for startups or businesses who didn't think they had the budget. Canvass your tenants to gauge interest, then toss out a few ideas to see which ones resonate. Above all, keep the fun factor high and make it easy to enjoy.
The three essential elements of any great party also apply to office holiday parties. These are:
Entertainment

Food & Drink

Decor
So let's break it down!
ENTERTAINMENT
The Office Holiday Party Gets Interactive
Here are some great interactive party ideas:
Plan a Murder Mystery

: A murder mystery is a sure-fire way to get people to collaborate, giving your guests a common goal and something to talk about around the Nespresso machine in the new year. Some murder mysteries are

do-it-yourself

(you can

purchase kits

online), or you could go so far as to hire a company who does this professionally, actors and all. You can get as simple or elaborate as you want – it all depends on how much time and effort you really want to put in to it.

Hire an Entertainer

: If group role-playing games won't fly, consider hiring an entertainer like a

close-up magician

. Typically, an illusionist of this sort will wander from group to group or room to room performing incredible sleight-of-hand tricks right before your guests' eyes. A

stand-up comedian

is another a great idea – because when everybody goes home laughing, you know it will be a night they will remember fondly.

Karaoke

: Your anonymous colleagues won't be a mystery anymore after you've heard them sing their favorite songs. Badly. Fortunately, there are websites like

SingSnap

that can help to facilitate an awesome karaoke party. All you need is a computer, speakers and a USB microphone and you're in business. Once the rum and eggnog starts flowing, you'll be surprised at who steps up.
Office Holiday Party: Live Music, Playlist or DJ?
If interactivity isn't a shared passion amongst your virtual office colleagues, entertainment is still essential. Music always makes the occasion more festive, and no matter what your budget, you've got plenty of options. You could:
Create an iPod playlist: popular selections mixed in with holiday favorites

Hire a DJ

Hire a band or other live musician
Decide whether you want the music to be in the background or the main attraction. If you decide to go with live music, ask local performers or bands that you like how much they would charge to play at your office holiday party and turn it into an event. Try to choose a band or combo that will appeal to a broad range of guests, and don't limit yourself to rock bands: a string quartet or a pianist might be just as delightful.
FOOD & DRINK
No matter what your budget, you've got to have food at your office holiday party! There are several ways to put on a good spread, and none of them have to be complicated or expensive.
Hire a Caterer: if your budget allows, a caterer offers many options to choose from. You could opt for a full meal, a buffet-style smorgasbord, a selection of passed hors d'oeuvres or even a carving station for hot prime rib or turkey sandwiches. Hiring a caterer also means you don't have to worry about plates, utensils or even cleaning up. Above all, you want to have fun too, so why not let somebody else do all the work! Most caterers can also bring a bartender as well – one more detail you won't have to worry too much about.
Host a Wine Tasting: a wine tasting is an easy way to add a touch of elegance without breaking the bank. Ask a representative of the local wine trade (if your favorite restaurant has a wine person, they might be able to recommend somebody) to bring in some wines and host a tasting. Having four or five different wines on hand for people to try, and an expert who can speak enthusiastically about them is a great way to bring people together around a pleasurable pastime.
Sweets for the Sweet Tooth in all of us: nothing says 'happy holidays' like a conference room loaded with chocolate, cookies and candy. For a little something extra, why not include a chocolate fountain, complete with marshmallows, cookies and fresh fruit for dipping. Most catering services will rent you a chocolate fountain – all you have to do is supply the ingredients. And probably a stack of napkins.
Beverages: have a selection of beer, wine and festive cocktails on hand for those who care to imbibe, but always make sure you have plenty of non-alcoholic choices too. You can get suitably festive without alcohol: sparkling cider or Italian sodas are always a treat. Hot spiced apple cider is a sweet comfort that is made for the season (and mixes quite well with rum or whiskey), and hot tea and coffee is a must, especially for a late-night shindig. Your caterer can bring a large coffee urn so you'll never have to worry about making enough.
DÉCOR
Festive décor comes in many guises, but if you don't want to get too complicated, opt for a few strings of lights and some festive tablecloths and you're probably good to go. Florescent office lighting can be rather harsh, so in addition to strings of lights, set up some candles here and there and trade in the relentless, humming office glare for the softly flickering variety. If you're worried about open flame, pick up some battery-operated LED flameless candles – they look great, they're appropriate for any occasion, and won't cause any liability issues.
Other décor options to consider:
Festive tablecloths

Fill bowls or glass vases with Christmas ornaments

Purchase garlands made from real evergreen – it smells great, can dress up any room, and doesn't take up any floor space.
Your Office Holiday Party: Anything but Virtual
While your virtual office tenants may only use a small portion of the building's available space, you can use your office holiday party as an opportunity to highlight rooms, services or resources that they might not know about. For instance, you can set up your media room to project a holiday-themed film, or maybe offer a tarot card reader or chair massages in one of your meeting spaces.
Giving Back is the Heart of the Season
In lieu of gifts, ask your invited guests to bring a non-perishable donation for the local food bank or a new gift-wrapped toy to donate to a local children's charity. Giving back seems only natural at this time of the year, so channel that feeling into something you can all get behind.
Send Them Home Safely with a Little Something-Something
Nobody should go home from the office holiday party with a token of the evening. To ensure that nothing goes to waste, invite guests to take food with them. Have a stack of to-go boxes ready when it's time to leave, or enlist volunteers to take the leftovers to a local shelter.
And since you know there will be some drinking going on, arm yourself with a stack of taxi chits and make sure everybody knows they are expected to use them. It's a generous gift that they will appreciate, and a small price to pay for office holiday party safety.
Let Liberty Office Suites Help You Show Your Employees They Matter
Liberty Office Suites is a great place to host a virtual office holiday party. If an office holiday party is on your current to-do list, contact Liberty Office Suites today to find out how we can help. One of our associates will be happy to connect you with the vendors and other resources you need to make it great.