Think like a start-up when looking for shared office space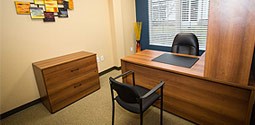 The start-up culture driving knowledge economies from Cambridge, Massachusetts to Silicon Valley have smashed old and outdated models of how companies should look and act.
That means everything from their funding and structure to what employees wear is subject to creativity and interpretation.
Shared Office Space
The use of shared office space is also an area that's been at the heart of business innovation: wildly successful technology incubators such as the Cambridge Innovation Center and the Sandbox Suites in Northern California are helping to drive the co-working movement as a means to foster business collaboration through the use of shared workspaces.
But your company doesn't have to launch a new smart phone app, develop a social media platform or perfect a new class of microchip to benefit from experiencing its growth phase alongside other entrepreneurs.
A broad spectrum of industries are driving expansion of the executive suite and shared office market – which is worth more than $3 billion a year. Financial advisors and certified financial planners; architecture and design firms; marketing and public relations agencies; small to mid-size law practices and accounting firms: these and others are all helping redefine some of the traditional attitudes companies and executives have toward workspaces.
Good advice if you are exploring shared office space or executive suites: think like a start-up.
In other words, look for the best package of shared services and amenities that match your company or professional practice's day-to-day workflow, without soaking your budget for extras or mere nice-to-haves that don't serve your core needs.
Also: take a close look at which companies and professionals will be sharing your workspace. Do the research. Complementary services often make the best co-working fit: a small ad agency and a graphic design firm; a mortgage broker and a real estate law practice; a tax attorney and a CPA.
Complementary workspace matches – as opposed to competitive or unrelated ones – can lead to new business referrals, shared clients, collaborative projects and a more vibrant and exciting workplace for everyone.
That's the workplace "vibe" that tech start-ups value so highly. But it's a dynamic that is valuable in any business.
Montville Executive Suites can provide your company or professional practice with premier office space in a shared environment. When you contact us we'll get to work finding the best workspace options, and the most beneficial workspace partners.