Things to Consider When Building Your Business Website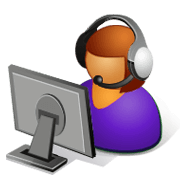 One of the most effective marketing tools at a small businesses disposal is an effective website, which takes a bit of money and time to build but is worth it when you consider the business it can generate. When starting to develop your website there are some things you need to consider in order to make it a success and worth the money you put into it. If you build a website that is not fully functional or isn't optimized for SEO, then you will basically be spinning your wheels when it comes to gaining business leads from the site. Here are a few tips on developing your business website from your virtual office.
Know Your Audience
One of the first things you need to think about when developing your business website is to consider who your audience is and how you can best serve them. This will help you other decisions that follow because you will have an idea of who you are designing the site for and what they would like to see on the site. By targeting the website at your core audience, you will have more visits and will be able to connect with your customers in a way you never thought possible.
Analytics
Another thing that you need to consider about your business website is how you will know what is working and what is not. By using an analytics tool, you will be able to see what customers are using on your site and what is not working. You can take the results of the analytics and retool your website to suit the needs of your customers, which will help you garner more customers and have the visitors to your website coming back again and again.
At Montville Executive Suites, we can offer you the best virtual office around. We have the amenities that you need to stay productive when working in a virtual setting.