How to Choose the Right Seating Arrangements for Your Next Meeting or Event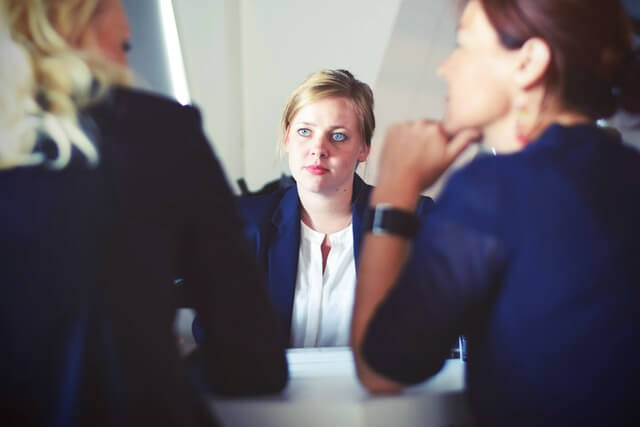 When you are organizing any kind of meeting or event, the communication factor is all-important. Your seating arrangements can make or break the atmosphere in the room, and if your audience is expected to collaborate or interact on any level, giving them a comfortable place to do so can make the difference between a "good" meeting and a "really productive" one.
Let's look at some of the most popular meeting seating arrangements, and talk about the pros and cons associated with them.
Theatre Style Seating Arrangements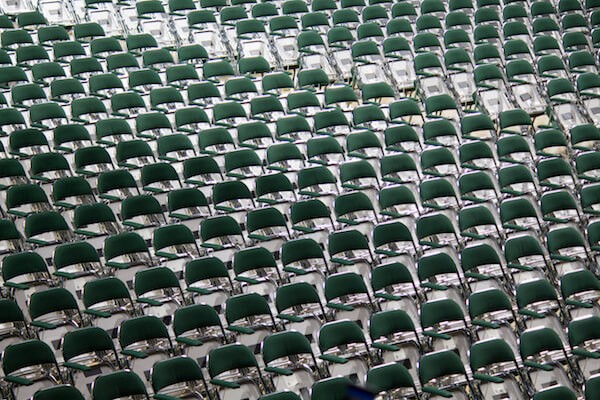 Theatre style seating is much like it sounds: several consecutive straight rows of chairs, all pointing in the same direction.
This arrangement is good for annual meetings, product launches, in-service meetings, and any gathering that requires focus on one specific person or thing.
Pros:
It's a great way to maximize the seating capacity of a room
Cons:
Does not encourage participation, conversation or collaboration

No tables on which to place laptops, food or drink, etc.

People may have to step over or squeeze past others to reach their seat
Classroom Style Seating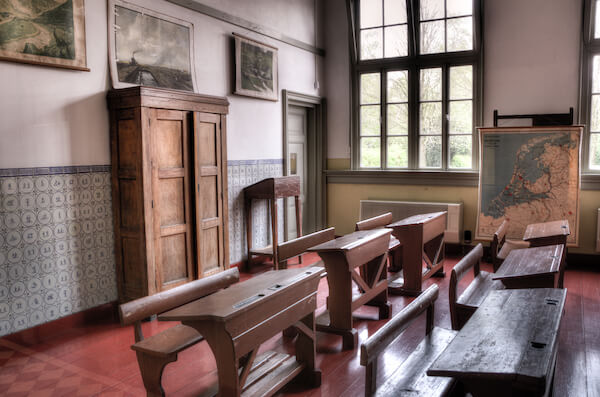 Classroom seating is arranged in consecutive rows; it is similar to theatre-style, except with the addition of desk space.
This arrangement is good for lectures, info sessions, seminars and conferences.
Classroom seating arrangements can also be angled in a herringbone style, where seats are angled towards the middle of the room so that each chair is facing the podium at an angle.
Pros:
All seats face one direction, most every seat can see the subject or speaker

Having a desk surface allows participants to take notes or use laptops

Meeting goers can enjoy a beverage or a meal during the meeting
Cons:
Difficult for participants to see each other, discuss or interact in any way

Seating capacity is reduced by the need for desk space
Horseshoe or U-Shaped Seating Arrangement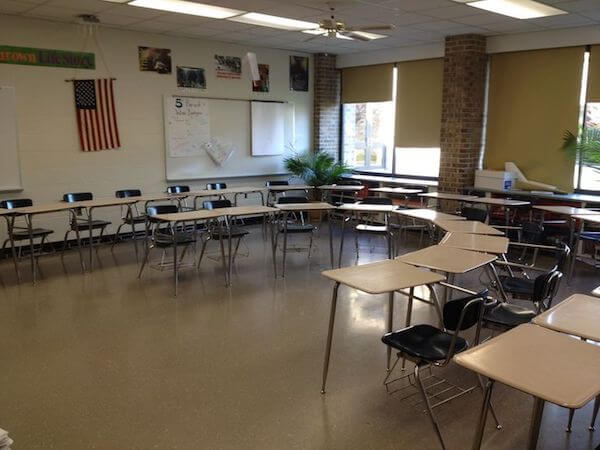 In the horseshoe or u-shaped seating arrangement, desks and chairs are organized in a u-shape – that is, open at one end.
In some cases, desks are eliminated completely, such as might be the case at a team briefing or other event that does not require note-taking or other participation.
This arrangement is good for presentations, classes, workshops or any meeting that requires a certain level of interactivity. The speaker can approach each participant directly, or the object of the meeting can be placed within the 'U' so it can be seen by everybody.
Pros:
Draws attention to a focal point or presentation area

Encourages engagement between the presenter and attendees

Audience participation is encouraged as attendees are facing each other
Cons:
Not a very efficient use of available space

Reduced seating capacity

Some attendees are sitting perpendicular to the presentation or podium
The Hollow Square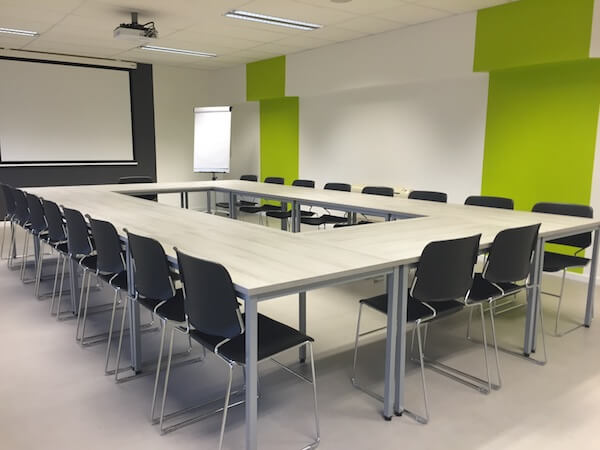 In a hollow square seating arrangement, seating is arranged around a large table. There is no open end as in the u-shape, and all participants are facing each other.
This meeting seating arrangement is good for round-table discussions, brainstorming sessions, lunch meetings or sales meetings where input is strongly encouraged.
Pros:
All meeting-goers are facing each other, encouraging collaboration and discussion

Desk space provides the ability to take notes, or enjoy food and drink during the meeting or presentation
Cons:
Not a very good use of available space

No main focal point, no place for a speaker

People are all facing the middle, making it difficult for multi-media presentations
Boardroom Style Seating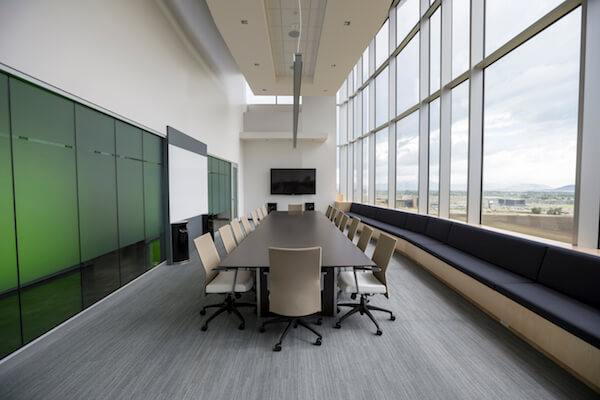 Boardroom seating is similar to the hollow square and u-shaped seating arrangements, but it consists of only two sides of one table, leaving the ends vacated.
This type of seating arrangement is good for small meetings, interviews, briefings or small-scale/intimate presentations.
Pros:
All participants are facing each other

encourages audience interaction

plenty of room for notes, files or laptops
Cons:
Relegates the presentation area to the end of the table

Participants are not facing the presentation area, may be uncomfortable
Cabaret or Banquet Seating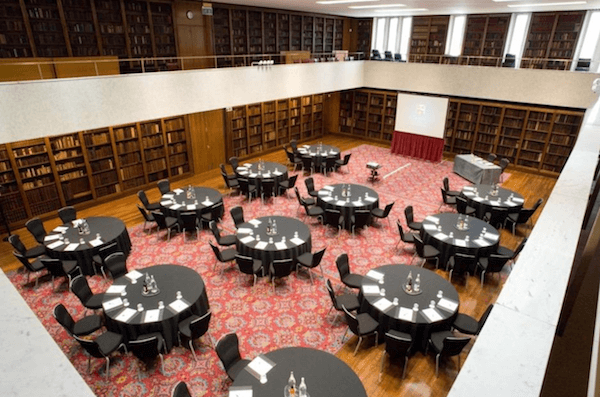 This type of seating arrangement is most common for events that include a meal, or any event that can potentially last more than a couple of hours. Both often make use of large round tables, the main difference being that in banquet seating, chairs are positioned all around the table, and in cabaret seating, one side is left open to encourage the audience to face the stage, podium or speaker.
Cabaret style seating arrangements or banquet seating is good for gala luncheons or dinners, weddings, awards shows, holiday parties, training sessions or team building.
Pros:
Audience members are facing each other

Smaller groups encourage more meaningful interaction

Easier to split audience into segments or groups if need be
Cons:
Not an efficient use of floor space as seating capacity is greatly reduced
Liberty Office Suites: Your Partner in Meeting Productivity
Liberty Office Suites is a shared office space with many versatile meeting rooms available for our members' use. Whether you are planning a presentation for potential investors, need a space for your weekly sales meetings, or are planning a gala function for your top performers, we've got a space that is perfect for you. From audio-visual suites to full-service conference facilities, we can accommodate up to seventy participants in most any configuration. Call us today to tour our available spaces, and let's make sure your next meeting is a great success.