What to Look For in a Meeting Room Venue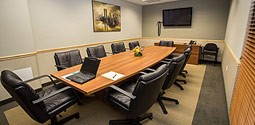 One of the best ways for small business owners to stay connected with their employees and customers is by holding regular meetings with them. In most cases, you will need to have thing meeting in a central location that offers both class and convenience for your guests. Finding a great meeting room is the best way to make a great first impression on your guests. Trying to find an adequate meeting space can be a bit overwhelming unless you have a pre-determined list of needs. Here are a few things you should look for when you are trying to find a meeting room venue.
Location
One of the most important things to look for when choosing a meeting room venue is the location. You need to find a convenient and accessible location for you and your clients that you are having the meeting with. Trying to find a meeting room that is located in a busy downtown area with plenty of public transport is an ideal situation, but if you are not able to find something like that you can use your own judgment on what is accessible for you and your guests.
Amenities
Another very important thing to consider when trying choosing a meeting room venue is the amenities that each facility offers with their rentals. One of the most helpful amenities that you can have is video conferencing capability, which can help you immensely. A video conference will allow you to connect with clients and employees from all over the world without ever having to leave the meeting room. This can help to cut down on your overall travel costs, which can be quite expensive depending on the places you have to travel for business.
If you find yourself in need of a quality meeting room venue, then look no further than Montville Executive Suites. We offer great meeting spaces with helpful amenities all at very affordable prices.