How to Maximize Space in a Small Conference Room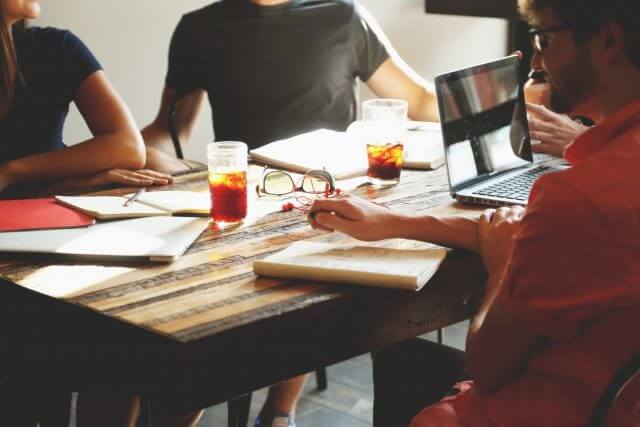 Just because you have a small conference room doesn't mean that you can't get a lot out of it. Since you don't have much to work with, space optimization is critical. Think about all the possible situations you might have to address while you're in the planning phase, then you should be prepared for any future eventuality.
Furniture for small conference rooms
Tables and chairs are the most important aspects of any size conference room. Keep in mind that every conference or meeting room exists for the purpose of bringing teams together, so you should always keep in mind the comfort of those who will be using it.
Enough table space, enough elbow room, and enough room to pass behind chairs is paramount. Meeting attendees may need to stand, walk about, access A/V equipment or leave the room to make a call, so ensure that there is enough space to pass, no matter how small the conference room might be. Take proper measurements to ensure that the furniture you choose will fit easily in the space and be comfortable to sit in for long stretches. Ergonomic chairs don't always have to be bulky; you might even be able to find designs that are collapsible and comfortable.
Small conference room table configuration
Table configuration is key in any size conference room, but in a small conference room it is absolutely imperative. A long, narrow conference room can be limiting, but modular tables can be a solution. Modular tables save space, as they can be adjusted to accommodate whatever size group is expected, giving you the option to scale up or down as necessary, and folding down for storage when not in use.
Audio visual accommodation in a small conference room
These days, audio visual and media equipment are being made more and more compact, making it easier to stow all of your technology. Flat screen televisions can be mounted flush to the wall, and most other equipment, laptops, projectors and such, can be brought in on an as-needed basis.
Storage and other space optimization considerations in a small conference room
If your small conference room does not provide enough space to accommodate a file cabinet, sideboard or built-in cabinetry, you may have to store equipment and supplies in a separate location such as a supply closet. As conference rooms are typically used for meetings and not as a general office, this should be possible. It's always nice if you can keep essential office equipment handy, but it's not necessary. Don't clutter a small conference room with items you can stow away or store elsewhere.
Wiring in a small conference room
One of the most annoying things about small conference rooms is having to trip over things. Whether furniture or wiring, it's always a good idea to keep walkways clear and free of hazards. Clean sight lines make the room look airier and could give the impression of more space. If you are having trouble navigating your small conference room because of masses of open wires or bulky furniture, it might be a good idea to re-think your design plan.
If all else fails – such as if you are stuck in an old, historic building that doesn't allow you to run wires through walls or soffits, lay a carpet down on the floor to cover all the wires in question. This will prove effective in space optimization and streamlined appearances as well as safety.
Liberty Office Suites: Your Home Office
Liberty Office Suites is a provider of coworking, virtual office and shared office spaces in Parsippany and Montville, New Jersey. We provide every possible professional office amenity to our clientele, including conference room space. While our small conference rooms are in high demand, we offset this by providing unscheduled meeting spaces and informal configurations that can be accessed at any time. This allows us to optimize our meeting and conference room spaces to their maximum potential, ensuring that all of our resident businesses and startups have access to the facilities they need.
Call today to find out more, and find out how easy it is to become a part of the Liberty Office Suites family.