Conference Room Design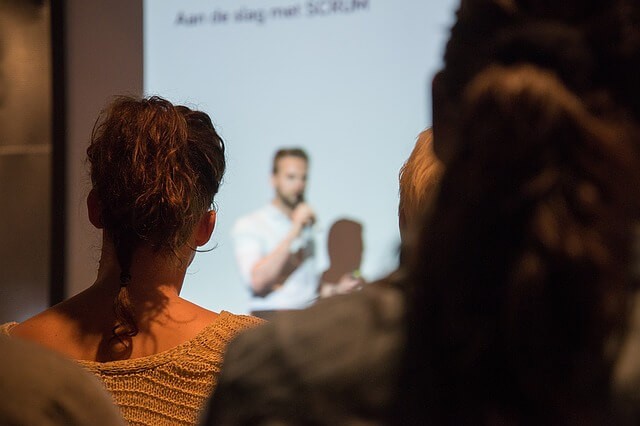 There are a surprisingly large number of factors when you are considering how you wish to arrange your meeting spaces.  Let's imagine that you need to create two spaces.  Room "A" will be "intimate" for eight people or less; Room "B" will be "large" for up to 18 people simultaneously.
Room A
This one has dimensions of 14′ × 16′, is carpeted, painted in neutral colors, and has overhead lighting.  You have eight identical, comfortable chairs on casters for this room.  However, the only tables you have available are either a 12′ × 3½' table with a gray Arborite top or a circular 8′ mahogany hand-carved antique.  Which do you choose?
The circular table will look terrific, allow everybody to see each other, and provide more than 3 feet of width for each person so you won't be banging elbows with your neighbor.  The longer, narrower table, with four people on each side will provide 3 feet of space for each person, but it will be more difficult to see people on the same side of the table as you.  Though it seems better, choosing the round table is a mistake.  Why?
Typically office chairs are two feet or more in depth and since the table is 8 feet wide people on opposite side of the table might have less than 12 inches to move their chairs back before encountering the wall.  It would be difficult to either sit or stand.  You will also have a vast, empty area in the center of the table that won't be useful until we invent a good quality holographic projector system.
Room B
Room B is comfortably big enough for 18 people.  This conference room design includes a nice large table, ergonomic chairs, six standard wall outlets, and two flush-mounted floor outlets in the center of the room so anyone needing to "plug-in" can do so without much difficulty.  The table is designed to be broad in the center and narrower at the ends so everyone has decent visual lines to everybody else at the table.
However, in this particular conference room design, many items are more noticeable by their absence than their presence.  Having a power source built into the tabletop would be much more convenient than scrambling around underneath.  Is your conference room design going to have executives in nice suits crawling on the floor?
Having Ethernet ports for those that aren't Wi-Fi equipped would be a great courtesy feature.  There could be a recess for each place at the table (at least one inch deep), to place a glass or coffee mug so that they are less prone to being overturned and spilled.
With such a long table there should be a screen at both ends of the room, or on opposite walls, whether it's a large screen monitor or a projection surface, for displaying content.  The farther people are from the screen, the less detail they can see.  Your conference room design should utilize a large, high resolution screen, or multiple monitors.
Conference Room Design
There are no official rules in conference room design, but common sense should make such decisions straightforward.  Prepared properly it has Wi-Fi, multimedia display capabilities (either projectors or screens), and multiple ways to access those media displays.  It comes equipped with a whiteboard, or preferably a smartboard (which saves all your scribblings and drawings as a digital file to minimize note-taking), as well as a lectern to help one or more speakers make a presentation.
The décor of the room, whether lush with wood paneling, or pristine, and bright, says a lot about you.  Proper conference room design gives a "feel" to your meeting.  Two or three people stepping into a conference room for a private chat are still influenced by the environment.  Your conference room design should always reflect and enhance your company message, and not detract from it.
In a comprehensive conference room design, it isn't solely about technology, but also ergonomics.  It is often helpful to break up into smaller groups during a meeting.  Additional perimeter seating and smaller tables can aid in reaching decisions or brainstorming.  Having enough space to stand up and walk around briefly, or a small refreshment area where one can get a beverage of some description, can make an overly-long meeting more endurable.
We've all been in conference rooms that are too small for the number of people.  Adequate environmental controls, such as dehumidification combined with heating or cooling as necessary are an integral part of conference room design, and can still make such a room tolerable.
It's Not All About Meetings
Sometimes its board luncheons—and that might mean that your conference room needs modest Food Service capability such as a sideboard.  Perhaps you'll use the room for a virtual conference with someone elsewhere in the world.  Part of your conference room design consideration should include the ability to conduct high-quality video-conferencing.
Slipping into the conference room to conduct a video-call with your partners in China allows you to see them on a large screen and interpret nuances in their expression and body language that you might miss on your desktop or laptop computer.  And of course you're seen alone, in a large, opulent space, conferring status, which is really important in a lot of cultures around the world.
The Takeaway
Conference room design may not have rules, but it does have requirements.  It should not be approached haphazardly.  Your conference room says a lot about your company.  Do it right.
If you don't have a convivial, impressive, and properly outfitted conference room to meet with customers we can help.  Please feel free to call us at 973-575-6080, or stop by either of our locations in Montville or Parsippany, New Jersey. We would love to talk with you!