BEGINNING NEW TRADITIONS …..HAPPY THANKSGIVING!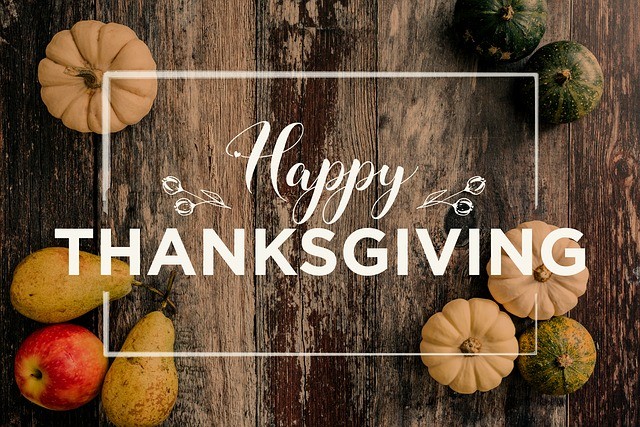 Thanksgiving has always been one of my favorite holidays – great food, wonderful family, none of the pressures of gift giving and of course the MACY'S DAY PARADE AND SANTA!
This year, however, may be a little bit different. As Fall is ramping up, I'm sure everyone has already started to prepare and plan for the holidays.  It's not a surprise that holiday celebrations may change a bit this year.  Best options?  Avoid unnecessary travel and have an intimate Thanksgiving feast filled with all the trimmings, whether it be inside or outdoors with family and friends in the same household.
Need some ideas of what to do while the turkey cooks?
Have a scavenger hunt to keep your kids guessing, make a Thanksgiving craft, play an outdoor game or go on a family walk (burn off all those calories!)  How much fun would it be to make it a family affair and let everyone in the house help get that special dinner on the table, so let's get creative!  Missing some of your favorite people??……participate in a virtual turkey fest and mix that festive fall cocktail or two (and of course those irresistible desserts!).  Watch a cozy Hallmark Christmas movie (my favorite) and if you want to get a head start on the holidays, add some shiny decorations.  Light that beautiful candle!
Remember there is still the 94th Macy's Thanksgiving Day Parade shifted to a television only special presentation, showcasing the Macy's Parade's signature mix of giant character helium balloons, fantastic floats, street performers, clowns and heralding the arrival of the joyous season with the one-and-only SANTA CLAUS!!!!!
'Tis the season for gratitude, giving and lots and lots of delicious food……so pull up that special seat at the dinner table, put on those stretch pants, kick back, relax, keep the tradition alive and NOSH, NOSH, NOSH (and don't forget those great Black Friday deals too!)
SWEET TREATS AND A HAPPY AND HEALTHY THANSKGIVING,
Karen