6 Essential Items For Meeting Rooms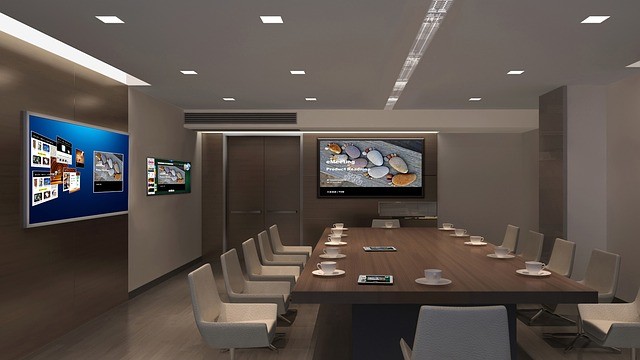 There comes a time in a business's growth where, in order to get everyone under the same roof, you need to look into meeting rooms where everyone can come together to discuss ideas or plot out the next phase of a business plan. Meeting rooms are also ideal for inviting new visitors to your place of business; such as partners, investors, or potential and existing clients.
Meeting rooms should be comfortable places that are conducive to productivity. Here is a checklist of items your meeting room should be equipped with the facilitate a productive working atmosphere,
Checklist for Efficient Meeting Rooms
Wi-Fi: Internet is so important these days that people expect to be connected all the time. You can't afford wasted minutes of people trying to connect to your network, asking which one is yours, what the password is, and so on. Make it immediately visible to your guests by by posting your Wi-Fi name and password somewhere they'll see as soon as they walk in. This could be as simple as something like a plastic sign mounted to a wall and the clear plastic frame. That way it's also easy to swap out if you were ever to change your Wi-Fi password. In order to make your Wi-Fi as reliable as possible place your router either in the room itself or just outside of it. You'll see some businesses mounting their Wi-Fi router upside down on ceilings where it is less visible but still provides excellent range.
Other Types of Connectivity: Beyond Wi-Fi what other types of connectivity will your guests require? You may have a flat-panel TV in your meeting room thinking it has all the advanced connectivity options which you may need, but the truth is they often don't have as much connectivity options that commercial grade flat panels and projectors do. For example, your guests might require USB, USB-C, HDMI, VGA, DVI, and you need to be able to accommodate the functionality your guests need.
Maximum Readability: The guests in your meeting rooms have to be able to see the content you're presenting from wherever they're sitting in the room. So that means you need to have display options to accommodate maximum readability. You can test this yourself by sitting as far away as you can from the front of the room and see if you can read the screen well without straining. If you can't, chances are your guests cannot either.
A Whiteboard: Meeting rooms still have not done away with analogue displays completely. By analogue displays, we mean a simple whiteboard with dry erase markers. Some people have moved away from whiteboards and some haven't, but why at least not give them the option? It's a low cost way to add an extra layer of connectivity and productivity to any meeting room.
Garbage and Recycling Bins: Have you ever needed to throw away an empty coffee cup or water bottle, but you couldn't find anywhere to put it? Do not let that happen to any of your guests in your meeting room. Have garbage and recycling bins readily available in your meeting room in a visible location so guests will know where to dispose of trash when needed.
Add Some Life: 

Add some life to your meeting room! Walking into a meeting room that's completely bare can feel like walking into anyone's meeting room. When someone walks into your meeting room you want them to know it's

yours

. Adding life to a meeting room is somewhat of an objective statement because it can mean different things to different people. For some, adding photos and artwork can be a representation of themselves and their business. Others like to add a framed piece of the company's mission statement. Trust me, these pieces will get seen by everyone who enters your meeting room and it'll be a reminder to them why they are there in the first place.
Conclusion
We hope this checklist helps you create the most efficient meeting room possible for your clients and business partners. If you need assistance with office space for your new business we encourage you to look at the many attractive executive suites we have available.